What is the best timber decking 🏡 to use outdoors? 🌲
There is no single superior timber for decking, as each kind comes with its own advantages: 
Blackbut

offers a low maintenance decking timber that is very durable.
Jarrah

decking is termite resistant and extremely good looking. 
Tallowwood

is the best option for decking near water. 
Ironbark

has the longest life expectancy. 
Spotted Gum

suits dry climates best as it is extremely fire-resistant. 
Merbau

offers an affordable hardwood decking timber. 
One of the very first decisions to be made when building a deck is the type of timber you are going to use. As mentioned, there are a range of options available to best match your property, needs and desires. As such, Prime Building Projects recommends setting some time aside for planning. 
Planning work for your timber deck 
As with any home improvement project, planning is extremely important prior to beginning work on your timber deck. You should consider your budget first as this will impact on the kind of timber you can afford. Then consider the timber you like, colour, durability and whether it fits in with your property. 
The specifics such as size and height of your deck should be considered. Whether you need any approvals, for example you may need to meet Australian Standards for bushfire zones. Finally, which builder you are going to trust to carry out the work. 
Choosing the best timber for your deck 
With so many outdoor timber options out there, it can be quite difficult to choose the best timber for your deck. Which is why Prime Building Projects decided to break down the top options to assist our readers in making their decision! 
Blackbut timber decking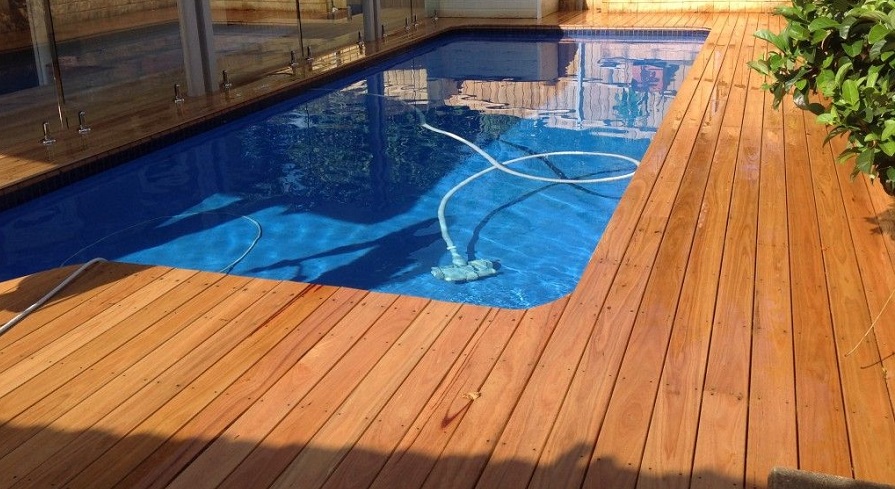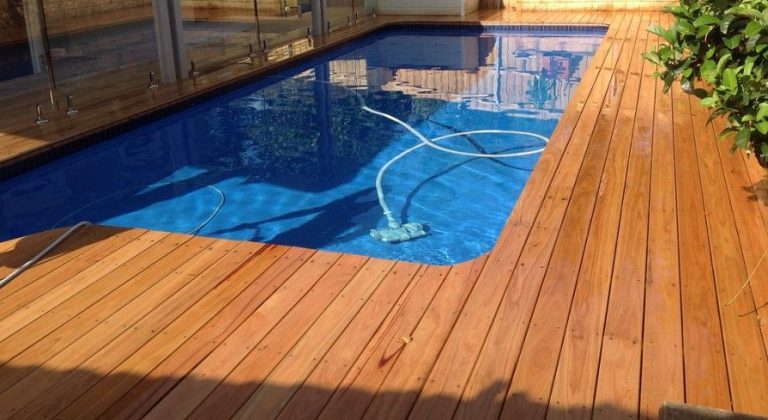 A true blue Australian native timber, Blackbutt has a lot going for it with fire resistance, capacity to be stained and stunning pale brown colouring. The only downside is that if left unsealed it may succumb to cracking, so it requires regular maintenance. 
Treated Pine timber decking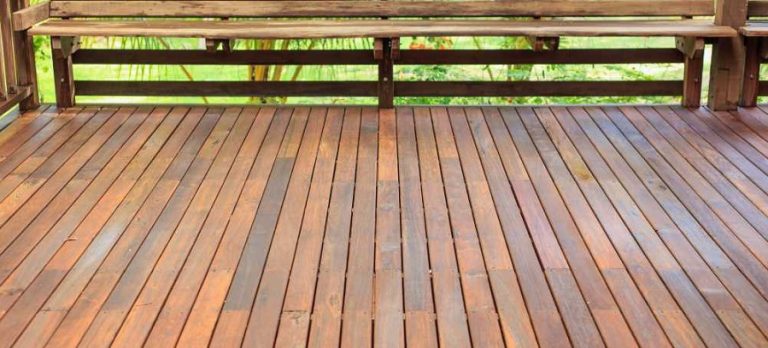 One of the newer timber decking options, Treated Pine has developed quite the street cred as one of the more affordable options that still looks amazing. Offering a lot of flexibility with both staining and painting, Treated Pine looks great in any setting. A drawback is that each pine has its own "H" (Hazard) rating telling whether it is suited to outdoors, ask your decking supplier to help you identify the best "H" rating for you. 
Jarrah timber decking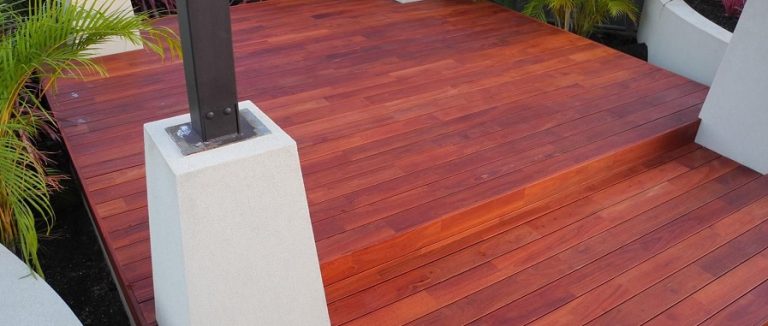 Jarrah is luxury, Jarrah is beautiful and Jarrah is expensive. This timber option is popular for its stunning light to dark brown/red colourings. Expect durability, fire resistance and an aesthetic grey tinge over time. Just be prepared to pay more than most other timber decking options. 
Tallowwood timber decking

Widely available and a great option for decking near pools and gardens due to its high damp/water resistance. Tallowwood timber decking's colouring is blond-brown to slightly olive green and is one of the toughest hardwood options. Boasting a 40 year lifespan, termite resistance, fire resistance and rot resistance this option has it all. 
Ironbark timber decking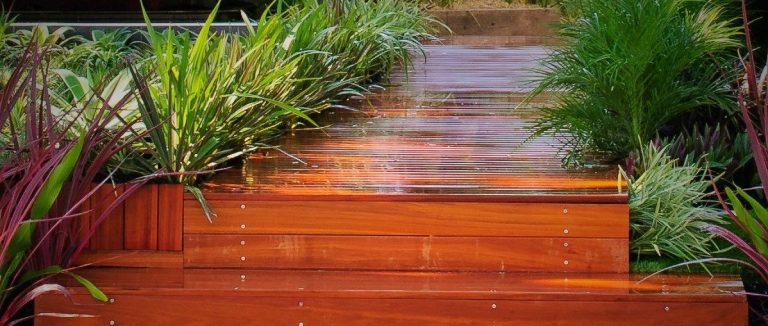 Perfect for those searching for a long lasting timber option, Ironbark provides longevity, the highest durability rating and beautiful colouring (pale brown to deep red). Protected against fire, termites and rot, Ironbark is a sturdy choice. One negative is that the timber is quite difficult to work with as it is extremely heavy and high in density. That being said, experienced builders should be able to handle it. 
Stringybark timber decking
Choose from yellow, white or red with Stringybark timber decking, however be advised that yellow works best outdoors. It is worth noting that wormholes and gum veins are visible in stringybark which some people love but others may not like this humble appearance. 
Spotted Gum timber decking


The environmentally friendly option, Spotted Gum is typically plantation grown right here in Australia. With gorgeous colour variations from pale brown to rich chocolate brown, this option is dense and less susceptible to shrinkage. Another great option for bushfire prone locations. 
Merbau timber decking
Imported from the enchanting Southeast Asian rainforests, Merbau is less expensive and both rot and insect resistant. Prime Building Projects recommends opting for sustainably harvested merbau, despite the slight increase in cost, as we all should do our part to help the environment. 
Timber hardness and durability ratings breakdown 
Timbers are broken down into a class system of hardness and durability ratings which can be extremely helpful in choosing your best option. 
Timber hardness rating 
Timber hardness is graded by a rating system known as Janka, which is expressed in Newtons (N) or kilonewtons (kN). This rating tells how resilient timber species are to wear and tear. Most Australian species are typically high in density. 
Low density: < 4 range

Medium density: 4 – 8 range 

High density: 8 + range 
Timber Durability Rating 
Class 1 
Class 1 has high durability, it is expected to resist decay for at least 40 years. For example Ironbark is Class 1, rated 14. 
Class 2
Class 2 is highly durable and is expected to resist decay for 15 to 40 years. For example Blackbutt is rated as Class 1.
Class 3
Class 3 provides moderate durability with between 7 to 15 years of resistance. Stringybark is rated as Class 3.
Class 4
Class 4 is low durability with only 1 to 7 years of expected resistance. We have not provided any timber options rated as class 4, as we do not consider this to within the best options. 
What impacts my timber decking costs? 
The price of your timber decking will be affected by the size (in square metres), timber choice, accessories (bearers, koists, bolts etc), if stairs are included, site and soil conditions, elevation and council permits. 
Who should build my timber deck? 
As with most building work, we recommend obtaining at least three quotes. Ensure your chosen deck builder holds a current licence, includes insurance, provides a written quote, is willing to obtain council approval for you and has both references and examples of their work. 
How do I get approval for my timber deck? 
Most timber decks require council approval prior to commencing work, however this is subjective to where you live. For example size is a key consideration for approval, some councils enforce approval for decks larger than 10 square metres. Height is also a factor as some councils may limit deck heights to 600mm. 
Ultimately council approval surrounds safety reasons and ensuring decks are structurally sound. 
Timber decking FAQs 
How do I choose the right timber decking? 
Consider the area you live in, your needs and budget. Read this article and reach out to local deck builders for further recommendations and guidance. 
What are the most affordable timber decking options? 
At $200 per square metre, Treated Pine is the most affordable timber decking option. 
What is the most fire resistant timber decking option?
The most fire resistant timber decking options include Blackbutt, Merbau, Red Ironbark, River Red Gum, Silvertop Ash, Spotted Gum and Turpentine. 
Which timber decking option lasts the longest? 
Timber decking timbers within the Class 1 rating will last the longest, with potential life spans of 40+ years. This includes; Tallowwood, Ironbark, and Spotted Gum.